Love Fiesta! 3rd Feb '07
jjc totally promoted the event, so much effort..
postcard to all jjcians.. then banners everywhere!!
and a very very biggggggggg love fiesta banner right beside the field.
there was flying fox.. by Mr Ang.. yea he was the i/c there i think?
then.. many many stalls selling food & drink.. bubble tea, fondue,
yummy donuts, rojak, delicious satays, jelly/agar agar.. everything!!
there were so manyyyyy people.. & jjc is really different now..
they even have this fountain thingie in the canteen.. waste $$ :X
anyw, went past the sch yest.. guess wat? they hav a new banner.
"thanks to the
12168
people who attended love fiesta"..
oh, not exact words la.. but something lik that.. not bad eh?
it was quite a successful event i guess? haha.. cheers.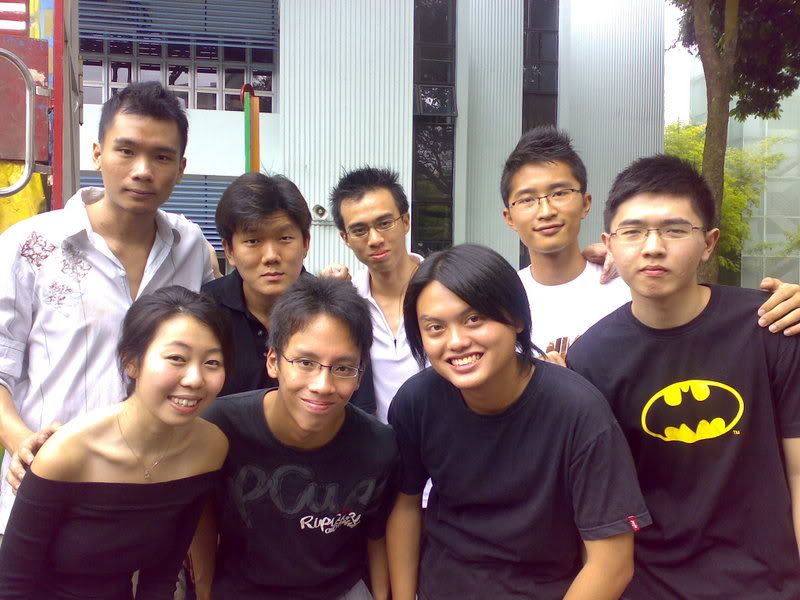 best part is we got to see
mdm lim
&
mr chin
! =)
and we walked ard the sch.. eating.. playing.. talking... :)
yea, went back with these people.. heehee..
xiuling was back too! in the morning.. & marie came real late..
ayeee.. let's all go back together next year yea? :)
im sure you people miss our dearest mr chin & mdm lim!
oh, mdm lim actually gave us $20 worth of coupons to play! nice eh?
paisay, the video quality isn't very good? haha.. but, fun ar?
poon, kel & i were just watching la.. btw it's $6/ride~
talking abt $6.. bought this stupid jelly thingie from my sister..
her class set up 2 stalls i think.. and they sold this jelly thingie
for $6!! per small tub. omg. it's like.. cheat people's money la.. :X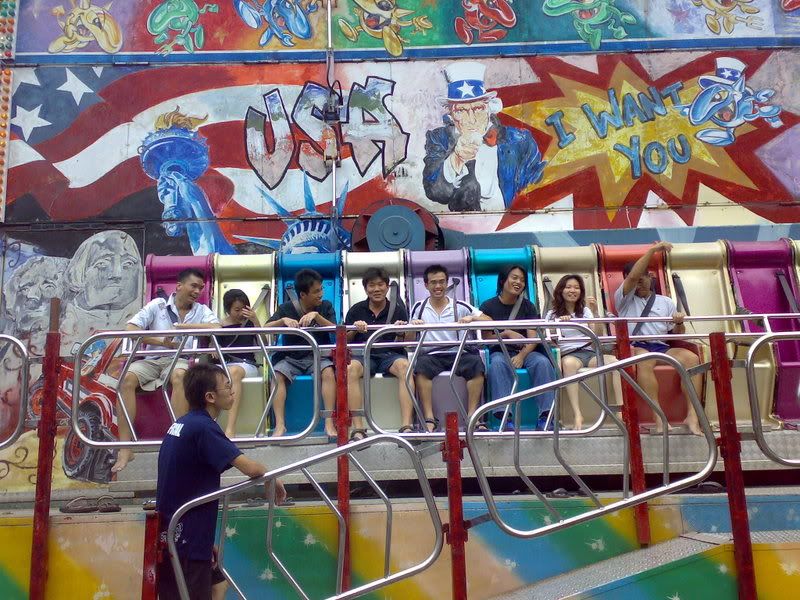 anyw, im sure everyone had fun.. haha..
but, poor jiawen.. went back with 5
blueee
blacks
!! haha..
she's light.. so was totally swung from left->right & back, repeatedly!
after this, we went to some classroom to slack lah..
it was quite nice to just go back to the aircon classroom..
and reminisce about the past.. while enjoying our satays? :) haha..
ohyea,
HAPPY BIRTHDAY JIAWEN!!!!!!!~
alright, today's our little crazy girl's birthday!
we had a small birthday celebration for her & leslie on friday
i'll upload the pix when i get them yea? hees..
.
from now onwards, let's just have this new 'rule' la..
birthdays will be by the RHS of this blog.. so, see for yourself..
if you're interested in sharing the gift for anybody's bday,
pls approach those you think will be buying the gifts! k? :)
it's tiring to keep organising & settling everything for everyone..
we enjoy doing it but it's tiring to wait for reluctant answers..
so, i think it's good this way la.. no obligations at all! =)
wanna share, share.. don't want, nvm.. cos no one wil ask you to :)
ok? good idea right? heehee.. jiu shi zhe yang le.. take care all!
have a good
Valentine's Day
,
and a
Happy Happy Chinese New Year
!!!!!